Horse Health:
I decided to add this page since my other pages are getting long. I will try and put things related to health and welfare of horses on this page.
Vet Care Today: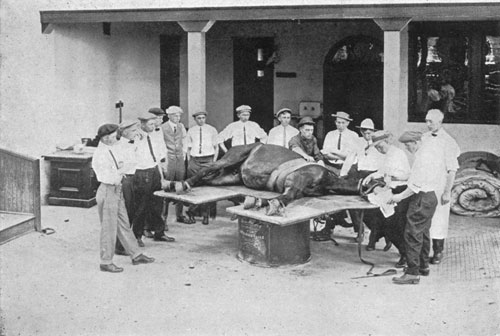 Knowledge about the horse has come a long way. One of the best large animal Veterinarian schools in the country is at University of California at Davis (UCD).From the days of working on horses on a barrel and plywood, we have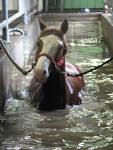 now gone to full hospitals with operating rooms, water and pool therapy. If you have a medical question about horses, UCD is the place to be. I am fortunate to be close to this facility where technology his so advanced. For good information and reading about horse medicine, this is place to find it. Remember knowledge of the horse is the best gift you can give to your horse.
---
Impaction Colic:
This PDF file has some great information on Colic In horses and is from the leading Vet Hospital's in California.
Here is another PDF file has some great information on 33 Do's and Don't for Colic In horses.
The link below is one of the better articles on colic and impaction I have seen. Some time horses that won't pass can be loaded into a trailer, this response will encourage a bowel movement and may help get things going. If I notice a horse is not drinking or has sweated more than normal (foaming or salt marks on hair) I will dip my dry hay in water before feeding. This removes dust and wets the hay, which helps in getting a little more water and not so dry food into the horse.
Impaction link: Wikipedia Horse Colic

Good Colic Information Additional Colic Information

I still see lots of confusion on colic and causes. I try and make it simple. Natural care of horses is the best way to prevent colic. Natural means not stalled, not fed twice a day, not forced to drink nasty dirty water, grain and supplements in moderation. The reverse causes colic. The things I see contributing to colic is dirty and nasty infested water that is not cleaned. Fish in water buckets create nasty water. DO NOT PUT FISH in your water buckets. Keeping blankets or rugs on horses causes them to sweat and raises their body temp that removes moisture and contributes to colic. Feeding dry hay in solid flakes causes horse to swallow clumps and not chewing or digesting food before swallowing. Starving horses all day and only feeding twice a day causes horses to eat fast and gorge their food; this interferes with digestion before swallowing. A produces 12 gallons of saliva a day, when fed only twice a day they produce much less and that contributes to colic.
Some common signs of colic are: pawing, kicking at belly, laying down or trying to lay down, rolling, staring or motioning to the flank area, stretching out, showing uncomfortable ness in belly or barrel area, some will play in the water or even display the Flehmen Response (neck stretch out, head high, curling lip up), not eating, tail raised, trying to pass gas and just general odd behavior.
Natural grazing, feeding loose grass hay all day, called free choice or free access hay is better. This way a horse is closer to it's natural feeding habit, they are starved and can eat a little bit all day called GRAZING, which is what a horse is designed to do. If I fed you once a day you would stuff yourself, you would be really hungry and eat more and eat faster, not good for you and very bad for a horse.
Lots of fresh clean water, loose grass hay, small amounts of grain or supplements (better half amount twice a day than once a day), open areas to move and walk and nibble and graze since exercise helps in digestion. To me it is simple, yet most do just the opposite of what I say here since it is easier and faster for them and their horse has to pay for their laziness.
---
Feeding Grains and Supplements:
This is a commonly confused area of horse care. Horses do best with varied diets, no big changes, no fast changes, slow is better, no trying to put weight on fast, no trying to take weight off fast, slow and steady. Horses do best on grass hay period. Any other foods fed can be problematic if overdone. A horse's stomach is only so big, so has it gets full it empties so more food can be taken in. In the wild, horse are not fed they graze 22 hours a day and eat small amounts of grass all day and night. Natural grass has moisture, so water is not as critical, since moisture and water is being obtained while the horse grazes. Much like humans, if we each foods high in moisture or water, we do not need as much water, if we eat dry or foods lacking water, we need to drink more water. So feeding horses dry precut hay or grass is much drier than fresh natural grass.
So how do grains and supplements fit into this? Most grains are dry. So feeding dry hay, dry grain and making a horse drink dirty water all contributes and raises the chance and risk of colic. That does not make grains bad in moderation. I only feed a small amounts of oats/rolled oats, rice bran and small amounts of cracked corn. I DO NOT feed these every day. How often do I feed this, It Depends. My thin horses get a little more than my fat horse or I have my horses share.
Sweet feed is NOT good for horses it is like sweet candy that rots the teeth. Giving Sweet feed as a SMALL treat once in a while, maybe a cup or half of cup, will not hurt them, but DO NOT feed sweet feed for weight gain, heat or nutrition. Sweet Feed is always fed by NEW and INEXPERIENCED HORSE OWNERS, it is cheap and horses love it. When new owners do this they are looking for easy fast shortcuts that end up making a horse pay for their ignorance. All NON grass hay should be fed in very small amounts and in moderation.
How much do you feed? It depends. I never feed big amounts. It is better to feed one half cup three times a day then one and a half cups all at once. The more it is spread out, the better it is for the horse.

Always feed grain AFTER HAY. If you feed grain first and then feed hay, the stomach fills up with grain, then the hay forces it out of the stomach before digested and it is wasted and may increase the chance of colic. So Grain is always fed after hay. This is not done by most since it takes longer, most people throw out hay and leave and if they feed grain the horse will each grain first and then the hay. Lazy or short cuts are NEVER good for the horse.
I feed grain as a supplement, maybe every three days or every other day if it is cold out or less grass out or if I work the horses more or if they are sick or not feeling well and I think they are fighting an infection. If there is lots of grass in pasture and no other issues, they get grain as a treat maybe twice a week. They only get small amounts, maybe a cup or two for BOTH horses. When people try and feed lots or catch up or double the amount or think they are helping, they cause big problems for the horse.
So here is my basic feed and food care for my horses. Kept in open pasture, NO stalls or locked up. Always have lots of fresh CLEAN water available. A salt block and horse mineral block in pasture, in the shade (out of sun) should always available. Carrots and Apples, fiber and moisture foods in moderation. Grain (rice bran, oats, corn) small amounts total amount of all three 2 cups or less, a few times a week unless the horse is healing from injury or sickness or cold or wet or working hard(working hard means ridder over 5 hours a day).
The key with horses is NEVER change their diet fast or big, slow changes and grains after hay so the grain is not pushed out of stomach before digestion.
CAUTION: Feeding too much grain can cause all kind of problems; feeding too little grain can cause NO problems. Seems pretty simple to me. HAY and roughage keeps a horse warm, so does heath, so does exercise, so do wind blocks and shelters, so does grooming before a rain to spread the oils over their coats, so does proper hoof care, regular vaccines, worming and good free access to hay. Horse and care of horses is a PROCESS NOT AN EVENT.
---
Foal Rejection and Stall Vices:
This is an article from University Of California, Davis, a leading Vet School on horses. It discusses Equine Behavior - Stall Vices and Foal Rejection. It is a PDF so it might take a minute to load but worth the read.
Move to top of page

---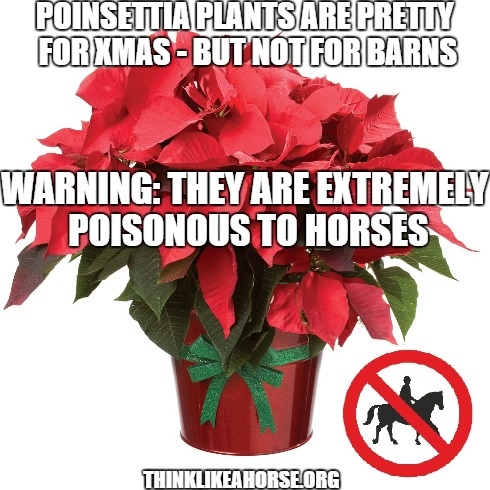 ---
STOP WORMING YOUR HORSES BECAUSE SOMEONE SAYS YOU SHOULD
Here is article by a Vet that explains why worming horses without knowing what worms your horse has is dangerous and NOT healthy for the horse.

Research over the past 10 years has confirmed that indiscriminate deworming leads to selection for worms resistant to common deworming compounds. Because of this, "targeted deworming" based on fecal analysis results has become the industry standard. This approach reduces the total amount of chemical used and better matches drug to worm. But when it comes to equine parasite control, controversy and confusion remains, and there are still many people still "doing it the old way".

In order to be part of the solution to the resistance problem, and at the same time to give your horses the best care, it is important that you know the basic characteristics of the common equine parasites, as well as the basic mechanism and effects of the common deworming compounds.

THE 'CLASSIC' PARASITE LIFE CYCLE

While there are great differences among the important internal parasites, they share a fundamentally similar life cycle. They all spend part of their lives in the horse, and part of their lives in the environment.

The adult worms live in the intestine of the horse, where they lay their eggs. These eggs are passed from the horse into the environment in the manure. On pasture, the eggs hatch over time into larvae. The larvae develop to a point at which they are "infective" and are once again ingested by a horse. The infective larvae mature within the horse into adult worms, and the cycle repeats itself.

Martin Nielsen, DVM PhD, a leading researcher in equine parasitology, and assistant professor at the University of Kentucky Gluck Equine Research center says: "In the environment, parasite eggs flourish and develop into infective larvae when temperatures are between 45 and 85 degrees Fahrenheit. When these conditions exist during the year depends on location but one thing we know is that eggs actually survive much better in cold than hot conditions. There is no such thing as a killing frost for these parasites."

THE WORMS

LARGE STRONGYLES. Historically, large strongyles were considered the most important equine parasites. They were common, and they caused a particularly severe problem in horses called thrombo-embolic colic, in which worms enter, damage and block the arteries that supply blood to segments of intestine. Over the past 40 years, much of our parasite control effort went into eliminating these worms, and to a great extent, we were successful. Thrombo-embolic colic, and these parasites, are now rare in managed horse populations. But those same efforts have caused severe drug resistance in other worm populations.

SMALL STRONGYLES (Cyathostomins). These worms are common in almost all horses. They are small, threadlike worms that can sometimes be seen in manure after deworming. Small strongyle and large strongyle life cycles have similar "classic" life cycle as described previously, but small strongyles show one important difference. Their larvae can burrow into the wall of the intestine and stay there for extended periods in a dormant state, until the environment is optimal for reproduction, at which time they emerge. This makes the species more adaptable. It also protects them from most of our worming compounds, which cannot penetrate the intestinal wall well enough to kill the larvae there. Small strongyles are now resistant to many of our common worming compounds. The only good news is that these parasites do not cause severe disease unless they are present in very large numbers.

ASCARIDS. The most important Ascarid roundworm in horses is Parascaris equorum, a large, pale worm that looks like a large bean sprout. Ascarids can grow to 15" long but are usually smaller. They are considered the most important parasite of growing horses.

Ascarid eggs are extremely resistant in the environment, living for years on pasture. When temperatures warm above 45 degrees, the larvae develop within the egg to an infective stage. The horse then ingests these infective eggs

The eggs are coated with a sticky substance that enables them to adhere to all types of surfaces, including the mare's udder. Mouthy, curious foals pick them up from these surfaces. The eggs hatch in the small intestine, and the larvae penetrate the intestinal wall there and enter the bloodstream. They enter the liver, then go to the lungs, then back to the intestine, where they grow to be adults and lay eggs. The whole cycle takes about 2 to 2 1/2 months.

In large numbers, these parasites can cause ill thrift and poor growth. When a de-wormer is given to a heavily parasitized youngster, large numbers of these worms can die suddenly in the intestine and drift downstream, forming a tangled mass that blocks the intestine and causes severe abdominal pain. This life threatening episode is known as "Ascarid Impaction".

Cleaning up the environment helps reduce the number of eggs a foal ingests, but it is almost impossible to prevent infection in young horses.

Craig Reinemeyer, another internationally respected equine parasitologist and researcher says: "The de-wormers used against ascarids are not effective against early stages of the parasite; they only kill adults, so it is important to wait until 60-70 days before worming young horses." Foals should receive about four anthelmintic treatments their first year, probably all benzimidazole. Ascarids are showing increasing resistance to the ivermectin class and so it may be inadvisable to use it in youngsters.

PINWORMS. Unlike the worms discussed above, pinworms do not cause serious disease. Pinworm adults live in the large intestine near the anus. Instead of laying eggs that are passed into the environment in the manure, female pinworms actually leave the intestine and lay the eggs on the skin of the anus. The eggs are irritating to the skin there and cause itchiness. In rubbing their tail base and anus on stall walls, fences, trees, etc, horses deposit the eggs in the environment. The next horse to lick the object will ingest the eggs and the cycle will repeat itself.

Historically, pinworms have been more of a problem in younger horses, but today they are seen much more in adult horses too. According to Reinemeyer "There is evidence that pinworms are developing drug resistance and new approaches to managing them are needed."

TAPEWORMS. These are very different from other equine internal parasites and are not affected by most of the common de-wormers. One important difference is that tapeworms have an indirect life cycle. To complete their life cycle, they must spend some time within a second "indirect host", a tiny Oribatid mite. These mites live in large numbers on pasture and are regularly eaten by horses when they graze. The mites ingest the tapeworm eggs shed by the horse. These eggs hatch into larvae within the mites, and the larvae grow.

Grazing horses eat the mites containing what are now infective larvae. The larvae are released in the intestine as the mites are digested. They travel to a specific location within the horse's intestine, the point at which the large and small intestines meet (called the ileo-cecal valve). Here the larvae mature into adults over 6-10 weeks, and begin shedding segments containing eggs which again are passed in the manure.

Our ability to diagnose these parasites is poor. "They are usually not diagnosable using fecal floatation techniques and the available blood tests have some problems too." says Dr. Reinemeyer.

The mite hosts are found only on moist, growing pasture. Tapeworms are thus more common in these areas and should not be a problem in dry lot situations and arid environments. Tapeworms are thought to contribute to a condition causing colic- irritation and blockage of the ileo-cecal valve area where they gather. But they can live in small numbers there and usually not cause a problem.

BOTS. Bots are not actually worms, but are the larval stage of a fly that at first glance looks like a honeybee. Bot flies buzz around horse's legs and lower bodies, depositing their sticky pale eggs on the hair. The adhered eggs irritate the skin, causing the horse to lick the area and ingest the eggs.

Once eaten, the eggs quickly hatch within the mouth, and the larvae stay there for several weeks until they are swallowed and attach to a very particular location within the stomach.

The bot larvae spend the winter months attached to this location in the horse's stomach. When conditions are right in the spring, the larvae release and are passed into the environment in the manure. They burrow into the soil and pupate, finally emerging later as adult flies to lay eggs and repeat the cycle. The internal larval stages of bots probably cause no real problems for horses. It is not uncommon to find hundreds of the larvae attached to the stomach in a healthy horse. Probably the biggest problem associated with bots is the annoyance caused by the egg-laying adult flies.

The only wormers that control bots are moxidectin and ivermectin. But aggressive use of these drugs to eliminate bots probably also increases resistance in other parasites.

THE DRUGS

Management techniques are the true cornerstone of effective parasite control - even more important than drugs. The most important aspect of management is prompt removal of manure from the environment, before worm larvae can be ingested by horses. There are many other management points to consider, but they are discussed elsewhere. Here are the common drug types used in horses.

BENZIMIDAZOLES. A class of compounds called "Benzimidazoles" have been a mainstay of equine parasite control for over 40 years. These chemicals interfere with a worm's energy metabolism on a cellular level, causing a slower kill of the parasites than the so-called "paralytic compounds". Familiar examples of benzimidazoles are fenbendazole (Panacur) and oxibendazole (Anthelcide EQ). These continue to have good activity against Ascarids, but small strongyles are now mostly resistant to this class. For this reason, these drugs should probably only be used in young horses.

Another class of de-wormer includes pyrantel pamoate and pyrantel tartrate (the familiar trade name Strongid). These drugs act at the junction between nerve cells and muscle cells, again causing paralysis and rapid kill of worms. Pyrantel does not penetrate the intestinal wall and so will not kill encysted strongyles. There is now significant resistance to pyrantel among strongyles.

Pyrantel comes in several forms, a paste, suspension for tube worming, and at low levels in a pellet (continuous wormers like Strongid-C). Pyrantel at very high dose may have activity against tapeworms. It is generally very safe for all age classes of horse. While continuous wormers have been implicated in resistance, they still may have a niche role in Reinemeyer's estimation "for selected horses on the farm, for a selected time period, but never for life."

MACROCYCLIC LACTONES (Ivermectin & Moxidectin). Ivermectin has been around for about 30 years and has been our most relied upon wormer, but there is evidence now that certain parasites are developing resistance.

Ivermectin and Moxidectin are potent at even low levels. They work by blocking nerve transmission and paralyzing worms. Unlike the other drug classes, macrocyclic lactones also kill external parasites like lice, mites, and larval skin forms involved in summer sores. They kill bots very effectively.

Moxidectin is a more recently developed drug, and has the ability to penetrate into the intestinal wall and kill encysted strongyles. It probably is the most effective compound for this purpose. This drug is not recommended in horses less than 2 years of age, and for smaller equines. One to two treatments of macrocyclic lactone per year will probably control both large and small strongyles, bots and other important parasites in most horses.

PRAZIQUANTEL. This drug only kills Tapeworms. It is currently marketed only in combination with either Ivermectin or Moxidectin . Praziquantel is probably also being overused, especially in regions that have very few tapeworms.

According to Reinemeyer "Diatomaceous earth and other "natural" products have to date not been shown to effectively kill parasites." If you rely on these products, you may be putting your horses at risk.

CONCLUSION

With these basics in mind it may be helpful to consider your own unique circumstance and ask yourself some questions. What is your current deworming program and how do you evaluate its efficacy? Have you changed your approach as the industry has become more aware of drug resistance? Have you done all you can do to reduce the number of worms ingested by your horses? What worms are likely to be a problem for your horses, given your geographic region and management?

With a stronger understanding of the worms and their life cycles, and the drug used to combat them, you can take a smarter approach to parasite control and help slow the onset of drug resistance while still ensuring the health of your horses. Work with your veterinarian to develop a targeted parasite control plan that is tailor made for your situation.

Originally Published in The Horse Magazine, April 2014
Author: Doug Thal DVM Dipl. ABVP
---
Removing Bot Eggs:
When removing bot eggs off the legs of horses be careful where you do this. The bot egg (The little yellow dots or specks normally on the legs) need to be ingested to produce the Bot worm. So removing these eggs in the grass, in the stall where feeding occurs or over hay that is going to be eaten, helps the eggs get into the horse. This is bad. So when removing or scraping bot eggs off your horse, do it in area where feeding is not going to occur or is not an issue. Especially do not do it while your horse is eating since the odds are some hay will fall and the horse will eat it along with some bot eggs and your horse gets worms. Bot eggs should be removed to prevent the horse from ingesting the eggs, which will give them worms. When a horse scratches his legs with his teeth is an easy way for the bot egg to get into the horse, so it is important to remove them.

Here is a video where I show how to remove Bot eggs from your horse.


Removing Bot Eggs from Horse - Rick Gore Horsemanship
Below is a picture of the inside of a horse's stomach - that shows what Bot worms do. This is a good demonstration of why you need to give your horse periodic worming's and remove bot eggs before a horse ingest them.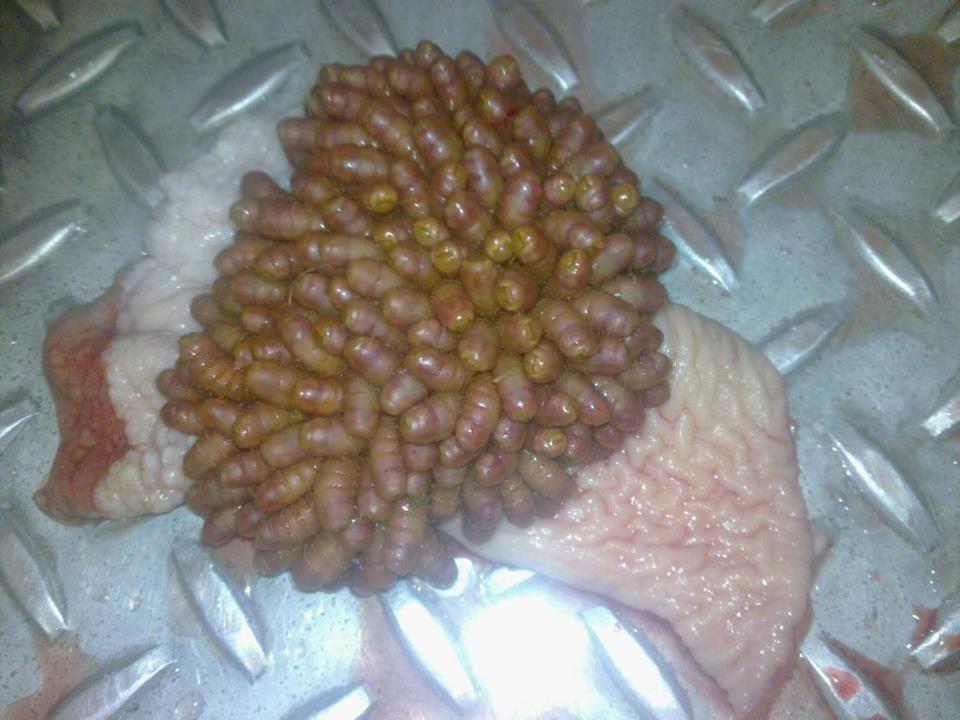 OVER WROMING OR TOO FAST WORMING CAN KILL A HORSE


When you give poison to kill worms the worms die and they have to be passed out through the intestines. So many times people rescue horses, don't know any better, try and massive worm the horse for every worm possible and the horse ends up colic or dying from blockage. Here is actual comment from one of my Youtube views:
COMMENT:
My first horse I bought, we wormed with a strong dewormer that kills everything. About a week later, he coliced, big time. Got the vet out to pour mineral oil down him and kept him moving. I was told to watch his manure for a few days, and when I saw shiny, oily manure, I would know that everything had passed through. In checking his manure the next few days, I saw boat loads of bot fly grubs. Those things are so big. You could use them for fishing bait. We are now thinking the reason he coliced is because we wormed him too aggressively when he had a belly full of worms. It killed them all and then clogged up his intestines. So. My learned from this. If you have a new horse and have no idea when the last time he was wormed, either take him to the vet to see what you are dealing with, or worm him more slowly and with dewormers that don't kill everything at once. After that, I talked with a lady that said she once killed her horse doing just that. She got him to the vet, but died shortly after arriving. She ask the vet to go ahead and examine him to see what caused the colic that killed him. Yep, his intestines were blocked by worms that were killed by the dewormer.?
---
Chewing Tobacco Wormer
Lots of old time remedies out there and like most things, some are true, some are partially true and some are just false. Ying and Yang = in all good there is bad and in all bad there is good.

I have to put this one in the partially true category. Like most things I put out, I will give what I see as pros and cons and then you make the decision for your horse.

Tobacco is good and bad and when taken in excess it is all bad. Horses are much larger animals than humans, so an amount that may be bad for us may not be as bad for a horse. Many years ago before modern day wormers were available, people would give some tobacco to horses in the belief that it killed worms and other parasites. Of course, there was no study to prove this was good or bad, but some claimed to see dead worms in the horse poop after giving some to the horse. If too much is given it is can be toxic, poisonous or deadly, like many things less is more.

Now with more modern veterinary care and knowledge there are many tested and proven effective wormers available for a reasonable price. However, in the bush or out in the middle of nowhere, wormers may not be available. If you can get wormers, why take the risk of using tobacco?

Out of control worms will kill a horse, tobacco may be harmful in large dosages but small amounts will likely not kill a horse. If you have no choice I would choose tobacco risk over the worms risk.

Prior to 1940's, there were only natural substances to deal with worms and most had some risk, after all, it something kills the worms, it is not great for the horse, not even modern day wormers. In that time Tobacco was popular since nicotine is known as a mild anthelmintic.

Here is a good link that explains Wormers and Anthelmintic:

Obviously, it takes less of anything to kill worms than a large horse or human. Most of the old treatments were based on folklore rather than fact and when over used they were so toxic to the horse that the cure was worse than the disease.

NOTE: I would not give tobacco to a pregnant Mare or to a new born foal.

Some say that tobacco would strip the bodies from the worms and the heads would stay imbedded in the gut and grow back. Obviously checking to see dead worms in the manure is a good indicator if any wormer is working.

Another false remedy, back in the day, was black walnut trees, if you cut some roots & boil up the mixture and give to horses, it was said to kill worms. There is now evidence that shows black walnuts trees are poisonous to horses. Others things like chicken poop and Mercury were used as de-wormers in the past.

MY CONCLUSION:

With modern wormers, I would stick to them and not try to experiment with my horse's health. However, tobacco is a plant and a leaf, and horses know what to eat and what not to eat. Many say their horse loves a chew or Red Man tobacco as a treat now and then. In very small amounts and moderation, I cannot see it being harmful to the horse. Horses like beer and I do not feed that either, but many do. Again, less is more, if not overdone, it may not be harmful, but why risk it?
---
Cryptorchid:

This may explain why your so called gelding is acting like a stud.
Cryptorchid
is when one or both of a colt's testicles do not drop into the scrotum. So the little rascal is up inside the horse still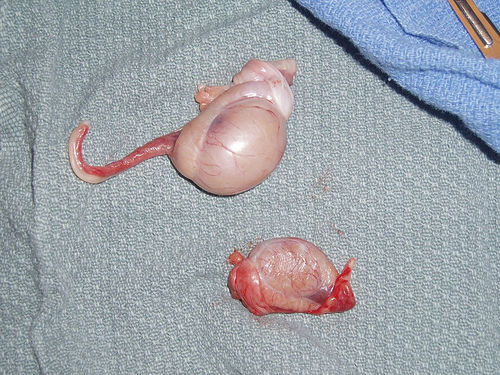 producing male hormones that create stallion behavior.
The word means: (Crypt = hidden, Orchid = testes).
I got a question from a reader that said she bought a gelding and found out later it was a stallion. After smiling and shaking my head a bit, I started thinking that maybe she was fooled because of a Cryptorchid. All breeds of horses can have this but it is more common in Quarter Horses, Saddlebred's, Percheron's and ponies. Some testes that have not dropped are still fertile. If both do not drop then they are normally fertile, however if only does not drop then it is normally sterile. Sometime the hidden one will drop when given the anesthetic to cut the one that has dropped off. Some vets can feel or find the un-dropped testicle and can pull it down when cutting the one off. So some just have the one gelded and if the other one cannot be found or does not drop then they know the horse may be fertile. Another test can be done to see if the horse is fertile and if he is not, then it does not matter that the horse still has one testicle.
However, just because a horse is not fertile does not mean that he will not still think he is a Stud and will still get hormones that could cause Stud like behavior.
Why should you care about this? If some backyard Vet does the castration of your colt, he may or may not tell you about this. A castration is easy and can be done locally if both testes have dropped. However, in the case of a Cryptorchid, surgery is normally required. Since this procedure is more expensive, some people may be dishonest (dishonest horse people? - tell me it is not so) and just have the dropped testes cut off and never mention the Cryptorchid. Something to be aware of when you think you have a gelding and he acts like a stallion.
---
Why do horses get Swayed Backs
This can be caused by lots of things such as poor nutrition, lack of exercise, lack of muscle, poor foot care, age, conformation, poor saddle or pad, over weight rider, having lots of babies, being ridden too early before bones are fully grown and developed. I would say most common cause is lack of exercise = lack of muscle and age. Much like older people get bent over, slouched and don't stand as straight or tall as they get older, same concept.
---
Recommended Vaccinations :
TETANUS TOXOID; When a wound such as a deep puncture is contaminated, toxins from the anaerobic bacterium Clostridium tetani, which thrives in the equine environment, cause lockjaw and general muscle spasms, usually resulting in death. Vaccinate yearly. Give a booster vaccination at the time of penetrating injury or surgery if most recent dose was more than six months earlier. Broodmares should receive a vaccination four to six weeks before foaling.
RABIES; Invasion of the central nervous system by a virus that is fatal if untreated; it also transmits to other animals--including humans. Recommended yearly, especially in areas where rabid wildlife is reported or areas considered to be endemic.
WEST NILE VIRAL ENCEPHALMYELITIS; A mosquito-born encephalitis that can be deadly to horses and has been reported in all but a few states. Vaccination recommended very six months.
Two West Nile Virus vaccines are now available; consult your veterinarian about the best choice for your horse. If you're vaccinating your horse against WNV for the first time, he'll require a booster after the initial injection.
INFLUENZA; Acute, contagious, viral respiratory-tract inflammation; occurs in isolated cases or in epidemics. Your veterinarian can recommend which form of the vaccine is suitable for your horse. Intranasal Vaccine every six months; add booster two to four weeks before anticipated exposure, such as a show or a long haul.
Intranasal vaccine gives a good immune response when properly applied but can be tricky to administer. If your horse is fussy about substances sprayed up his nostrils, consider using the injectable form. Injectable Vaccine every six months; add a booster two to four weeks before anticipated exposure.
RHINOPNEUMONITIS; Caused by a herpes virus, a contagious infection of the respiratory tract; often induces abortion in pregnant mares. Optional - every six months. Rhinopneumonitis and Influenza vaccines are sometimes administered in a single combined dose. If your mare is bred, consult your veterinarian about a Rhino vaccination schedule to safeguard her pregnancy.
Some Additional Vaccines:
EE/WEE/VEE; Eastern Western Venezuelan Equine Encephalomyelitis, aka Sleeping Sickness, is a vector-borne viral disease causing inflammation of the brain and spinal cord. Vaccinate yearly, in spring (before insect season). Where Encephalomyelitis is common and/or where there are two annual mosquito "blooms," give a booster EEE/WEE/VEE vaccination every six months about a month before the onset of the mosquito season.
Strangles (also equine distemper) "See below"
Move to top of page